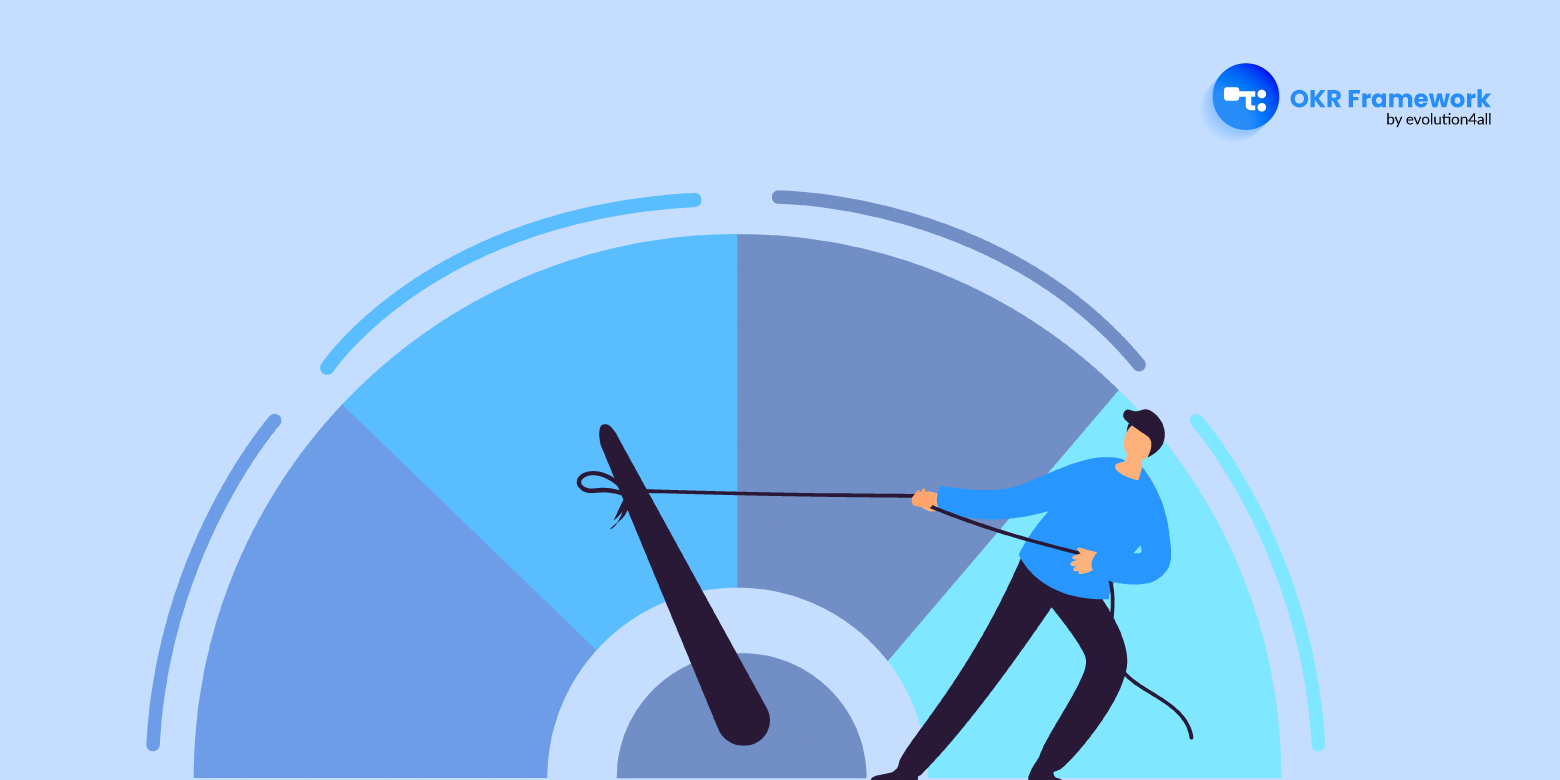 A goal-setting framework known as OKRs, or Objectives and Key Results, has gained popularity in recent years. OKRs are a quick and easy approach to tracking progress, ensuring responsibility, and matching an organization's goals. An important part of the OKR framework is scoring, which is a way to gauge how well an organization is doing with its goals and important outcomes.

Each objective and the key result are often given a numerical score depending on their level of achievement when evaluating OKRs. This score might be between 0 and 1, with 1 denoting complete achievement of the goal and 0 denoting complete failure to achieve it. The score gives rapid access to information about the organization's performance and areas for improvement.

The process of scoring OKRs has various advantages. It first brings focus and clarity. Organizations may recognize what they are doing well and where they need to improve rapidly by giving a numerical score to each aim and important result. This makes the team more cohesive and effective by ensuring that everyone is on the same page and working toward the same objectives.

Second, assigning OKRs a score encourages greater accountability. By giving scores, businesses can identify who is in charge of ensuring that each aim and the important result is accomplished as well as who is in charge of ensuring that progress is being achieved. Individuals and teams are motivated by this accountability, which results in improved performance and goal achievement.

Third, evaluating OKRs offers useful information on the performance of the company. Organizations can identify which objectives and important results are succeeding and failing by monitoring progress over time. Making data-driven judgments based on this information can result in improved outcomes and more productive procedures.
If you want to have an effective way of assessing the OKR of your department, there are two ways/methods to do this. They're called confidence ratings and grading approaches.
OKR Scoring Confidence Ratings: Pros & Cons
At least two weeks before the quarter ends, it's time to assess the OKRs of your team in your department. Has your team been successful? As a department, have you achieved your goals? Were your team's key results effective? Also, you need to plan for your OKRs in the next quarter.
This is a simple system that is widely used by start-ups and smaller teams that are new to OKRs. When setting OKRs, they basically set a confidence rating that reflects the probability of their team achieving their objectives.
The rating is typically between 5 and 10. Each week, members are asked whether their confidence levels have changed or not. They factor in what they have done so far in achieving their key results. Whether they are on track or behind schedule.
They look at every bit of data from the previous weeks and check whether the team is making progress or not or getting closer to their goal or slipping away. You as the department head, team leader, or manager are in charge of adjusting the confidence to a higher rating as they become confident that they are close to the results they want.
The confidence level could either go up or down week on week. It depends on whether progress has been made or a setback showed up. After two months of the implementation of OKRs, however, the confidence level of the team should settle into a more stable outcome.
Two weeks before the quarter ends, you can already assess the outcome of the OKRs. You can say whether you only have a 50/50 chance of achieving your team objectives. The sooner you call the results, the earlier you can make plans for the next quarter.
There are two major advantages of the use of confidence ratings in evaluating the OKRs of your department. The first one is that it serves as a reminder for employees to keep track of their OKRs.
Since they will be asked about their confidence levels week after week, they will have the initiative to track their own progress and ensure that they are focused on their key results. It is an easy and very effective way for a company to install the habit of success tracking.
The second major benefit of using confidence ratings is that it leads the way to meaningful conversations. When the team's confidence levels dropped, everyone can talk about the could-be-betters. What has gone wrong? What could have been done differently? They can brainstorm ideas to correct the drop and get back on track.
Because a team's OKR affects everyone else's OKRs, it can be a serious concern for the entire organization. The leader should, therefore, feel comfortable to open conversations and ask his team members what he can do to help.
By the time you evaluate your department's OKRs, you either mark your confidence level as 10 or 0. If they achieve two out of their three key results, it means the OKR has been successful.
This grading system helps a team double down on possible goals and get rid of efforts that are clearly out of range. This streamline processes and eliminates unnecessary efforts and workaround.
The downside, however, is that some employees might "sandbag" the system by setting one easy objective, one difficult objective, and one impossible objective. The manager has a major role in ensuring this doesn't happen.

OKR Scoring & Grading Approach: Pros & Cons
The second approach to evaluating OKRs is called the 'grading approach'. This is the system used by Google. At the end of each quarter, teams and individuals grade their results using the data collected. A grade of 0.0 means that they failed, 1.0 means that the OKR was a complete success, and a score between 0.6 and 0.07 is the ideal score.
Having a score lower than this suggests that the team is not achieving what it needs to be achieved. For companies that are new to OKRs, it can be uncomfortable to be behind their goals.
Most companies implement a scoring system wherein the key results are measured at the end of the quarter or several times during such a period. However, many fail to define a set of scoring criteria which is an important element of key results.
The scoring criteria are necessary especially if you want to use a standardized scoring system for your company and must be defined upon the creation of the OKRs. Technically, Key Results are not yet finalized until the team has defined its scoring guideline and system.
Prior to assigning a final score, it can be helpful to conduct a mid-quarter check-in for all levels, from key departments down to teams and individuals to give everyone a sense of where they are. An end-of-quarter check-in will be used to prepare you and your team for the succeeding quarters.
Other organizations perform a midpoint check, some perform a monthly check. Google, their philosophy is to hire smart people, give them a goal, and give them the freedom to accomplish it. One smart technique as advised by experts is to keep OKRs visible. Not only does this promote transparency across all teams, but it is also an effective strategy to communicate scores and establish a sense of accountability. Everyone will be somehow 'forced' to update their self-ratings when the quarter is almost over.
There are a ton of tools that your team can use to track your OKRs and measure your progress. Buying a tool should be your last resort. It can be helpful to experiment with various approaches to find the right technique that works for your team and could get you to the results you want.
Gathering your department's teams for feedback is always the best way. Collaboration is the key to success in implementing any change, a new process, or a different management framework. At first, it can be a struggle to keep things in order and implement OKRs smoothly. But with a scoring system in place, it should be easy for you to evaluate your OKRs.
We hope this helps. If you want to take a closer look at how your entire company performs as a whole, you might want to check out our organizational mastery quiz. We've established scientific and concrete metrics to see where you can still improve your company.
Feel free to also forward this to other heads of departments in your company (or even to the CEO). It reveals concrete areas that hold your company back from achieving its true potential.
Conclusion
In conclusion, an essential part of the OKR framework is the scoring of OKRs. It promotes responsibility, brings clarity and focus, and offers insightful information about how well a company is performing. Organizations that use this technique can increase success and create a more effective and efficient workplace by ensuring that their goals are aligned, their workforce is inspired, and their progress is effectively recorded.
If you liked this article and you are looking for a way to align everyone in your organization, let's have a call or simply download our OKR Guide. We also offer OKR consulting and OKR training, but our approach differs from other companies, we believe OKRs should be fully integrated with your product development.